Every country and region in the world has its own unique delicacies. While these local dishes have been around for centuries and seem perfectly normal to the people who live there, tourists might be a bit taken aback at them. However, were they to give these uniquely British dishes a chance, they might find a new favorite food. From the sweet to the savory, whether breakfast, lunch, or dinner, these are some of the more interesting and distinctive foods that the United Kingdom has to offer. So instead of turning up your nose, take your fork and dive into these dishes.
1. Toad in the Hole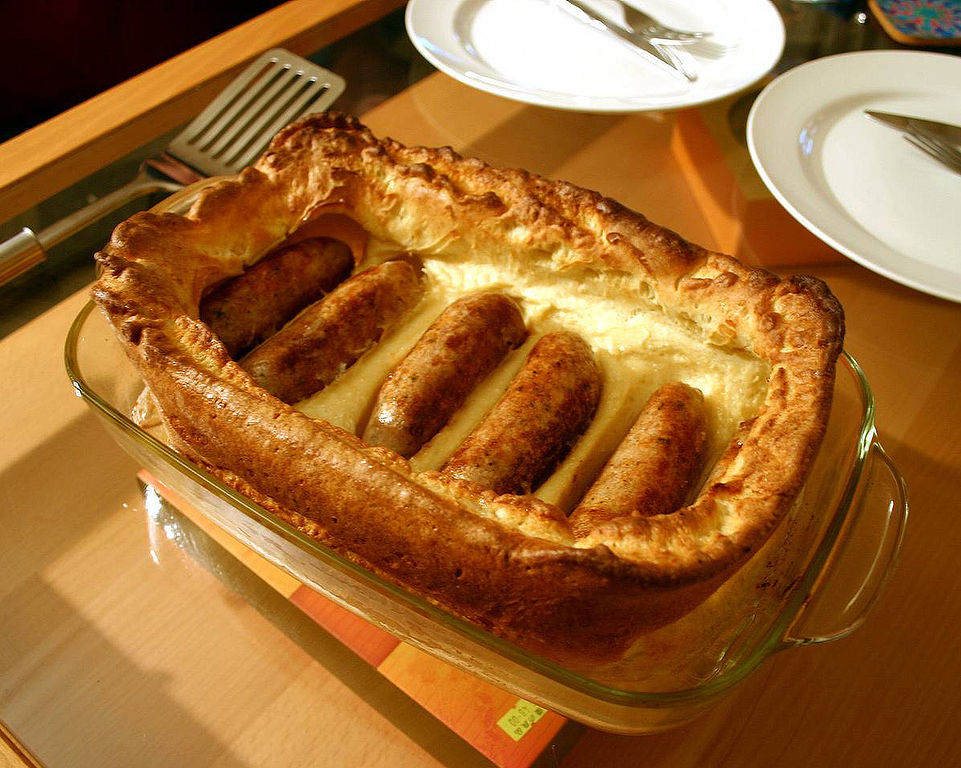 A dish with a more disgusting name that masks its deliciousness, the Toad in the Hole is actually a group of sausages baked in Yorkshire pudding batter. The name is meant to evoke an image of toads submerged in mud, and there is some debate about whether it originates from the game of tossing disks or whether the dish used actual toads when times were tough. More than likely, it comes from the 1600s when the dish was invented at a time that meat was roasted over batter puddings and the fat would drip into the batter, creating holes, while sometimes the poorer cuts of meat (or toadies) were cut off and allowed to fall into the batter.
2. Stargazy Pie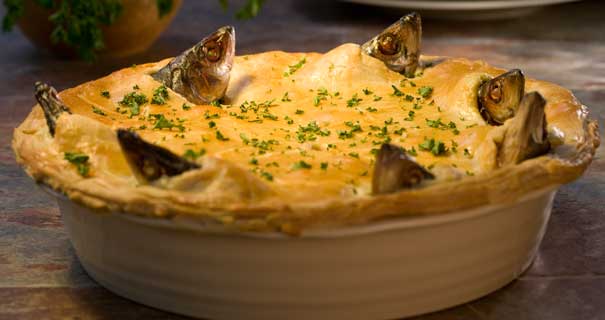 This one is slightly more unappealing to look at, but certainly no less delicious. This Cornish dish involves baked sardines in a pie, filled with eggs and potatoes, and covered with a pastry crust. Then, using the remaining sardines' heads, the pie is decorated. The reason for leaving the heads in is to permit the oils from the fish to seep back into the pie. It was created to celebrate the festival of Tom Bawcock's Eve, which recognizes the efforts of Mousehole resident Tom Bawcock to ease a famine on the village through relentless fishing. The name comes from the appearance of the fish heads, as if they are staring at the stars.
3. Black Pudding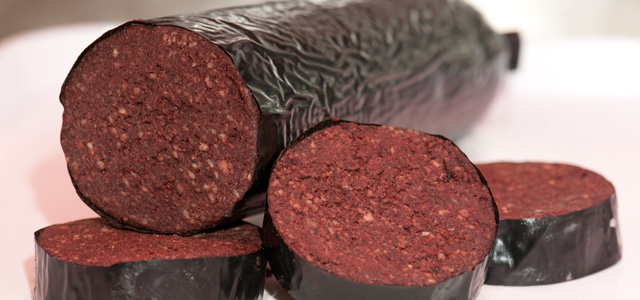 Not like any kind of pudding you've had before, I'll wager. Black pudding is another name for a blood sausage and is made from a combination of congealed pig's blood, oatmeal, and that all-purpose ingredient—lard. Some recipes also include seasonings such as pepper, onion, salt, and cloves. It is a particular delicacy of the Black Country, West Midlands, and North West England, and Lancashire has a variation where it is boiled and served with malt vinegar. I found the texture a little dry and grainy for my taste, but you may feel different. It's definitely a "love it or hate it" dish.
4. Spotted Dick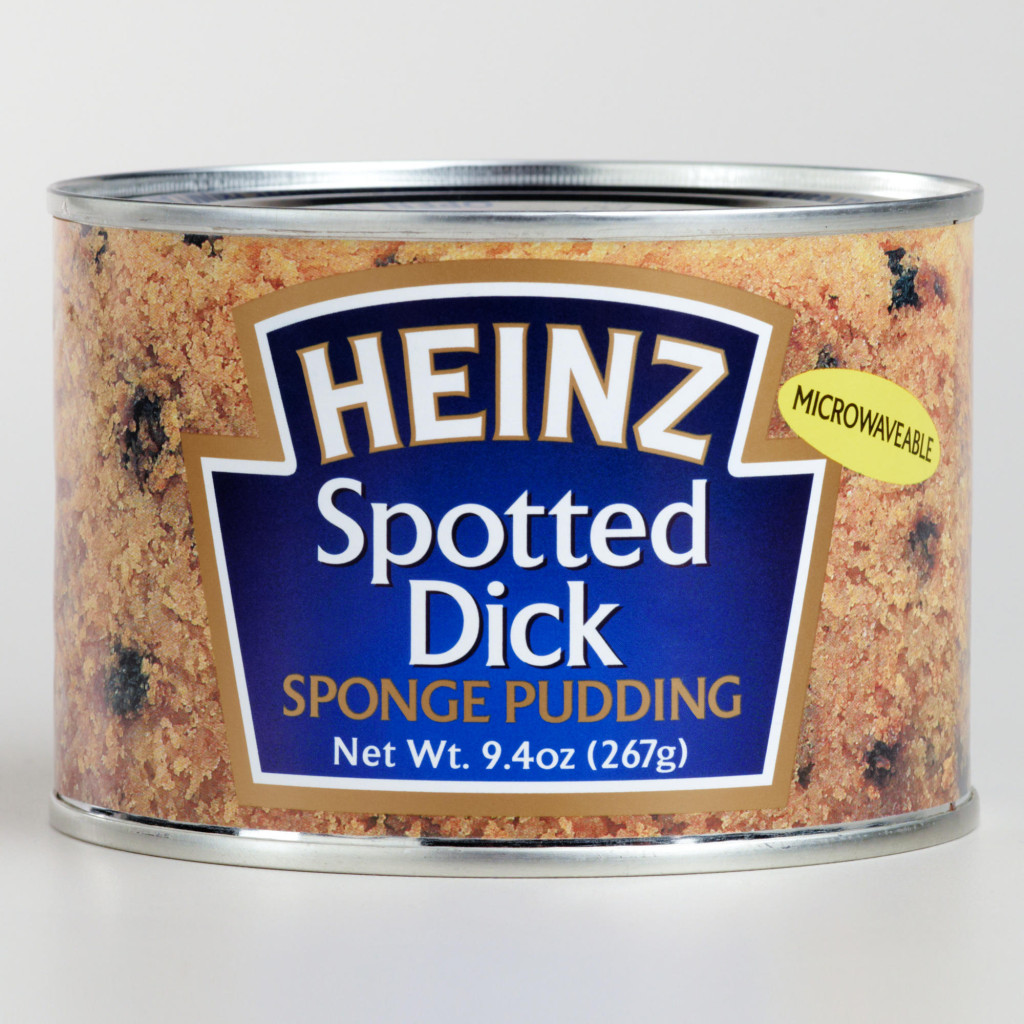 All right, stop with the sniggering! It is actually a pudding made from a sheet of suet pastry filled with either raisins or currants, then rolled up into its traditional circular shape. Its first recorded appearance was in chef Alex Soyer's "The Modern Housewife" in 1849, and it is believed that "dick" was simply a term used for pudding in the 19th Century, while the "spotted" part should be fairly obvious.
5. Haggis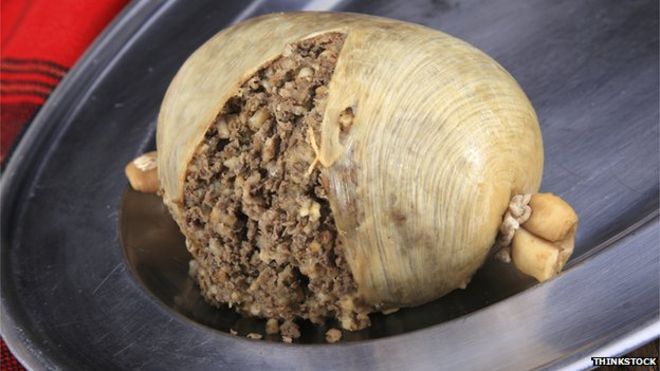 This traditional Scottish dish gets more of a bad rap for how it's made than anything else. This pudding is created by taking the heart, liver, and lungs of a sheep (also called the pluck), mincing them, and adding in onion, oatmeal, suet, spices, stock and salt before cooking it in the sheep's own stomach. The first written recipes appeared around 1430 in Lancashire. So famed as a dish that it has had poetry written about it, including one piece by Robert Burns, in whose honor haggis is traditionally served on Burns Night. It is also the subject of a game called "haggis hurling", but if you'd rather eat it instead, it is traditionally served with mashed turnips and mashed potatoes (neeps and tatties) and the recommended beverage is whiskey.
What's your favorite? Let us know in the comments!